I never considered using slaves in my D&D games until I read the Al-Qadim setting and found them listed in the equipment section. I remember being shocked at the thought, my 12 year old brain thinking it was crazy for TSR to do that. Seriously pushing the envelope!
Ok, yes, I was a fairly sheltered 12 year old.
I remember that I quickly shifted our game to Al-Qadim and introduced slavery, and for about a week it was edgy and interesting.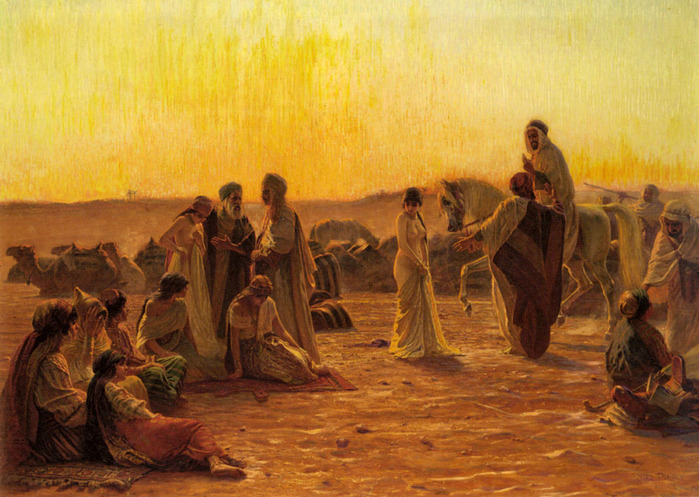 After that... it just dropped away. I don't think I ever removed slavery from my game, it just stopped coming up.
During High School and College I was running a lot of Forgotten Realms, and since that setting doesn't have slaves as the default, the only time it came up was when fighting off a drow or Zhentarim slave raid on a village or town.Or freeing slaves from a previous raid. While they weren't generally heroes, they weren't interested in keeping slaves. My 3.x games were pretty much the same, with slightly more heroic tendencies... slightly. On the other hand they were just as likely to use the "rescued" slaves as meatshields/hostages if they weren't given what they felt they were owed for rescuing them.
My 4e game is set in the default "points of light" Nentir Vale, and the PC's are clearly Heroes, so the only slaves they'll likely encounter will be the kind they go and rescue. Actually, they've already done that...and even gave back a reward once.
As for my (rarely run and desperately in need of fleshing out) old school game? Slavery is probably in there somewhere, but I haven't decided how prominent a feature I want it to be.It wouldn't bother me to have it as a significant part of the campaign, but it also wouldn't bother me if it didn't come up.
So I'm curious how common slavery is in your games, and how involved PC's are in it. There are 2 polls off to the right, let me know!
---
I think it's stupid that I feel like I have to say this... but here goes: Slavery in the real world is and was a terrible practice, both throughout history and today. I do not support slavery in any way. This is a blog about a fantasy role playing game that combines aspects of history and fantasy to create a realm of imagination. If you can't handle that, go play Candyland.